You've been sewing for some time now and realized you had accumulated quite a few new tools and notions. That repurposed cookie tin isn't handling most of your new sewing tools anymore, and you need to reorganize your sewing space!
We all need storage space solutions to help us reach what we need effortlessly. Knowing where your tools live helps us become more productive and saves time, so here are a few sewing tools and notions storage ideas.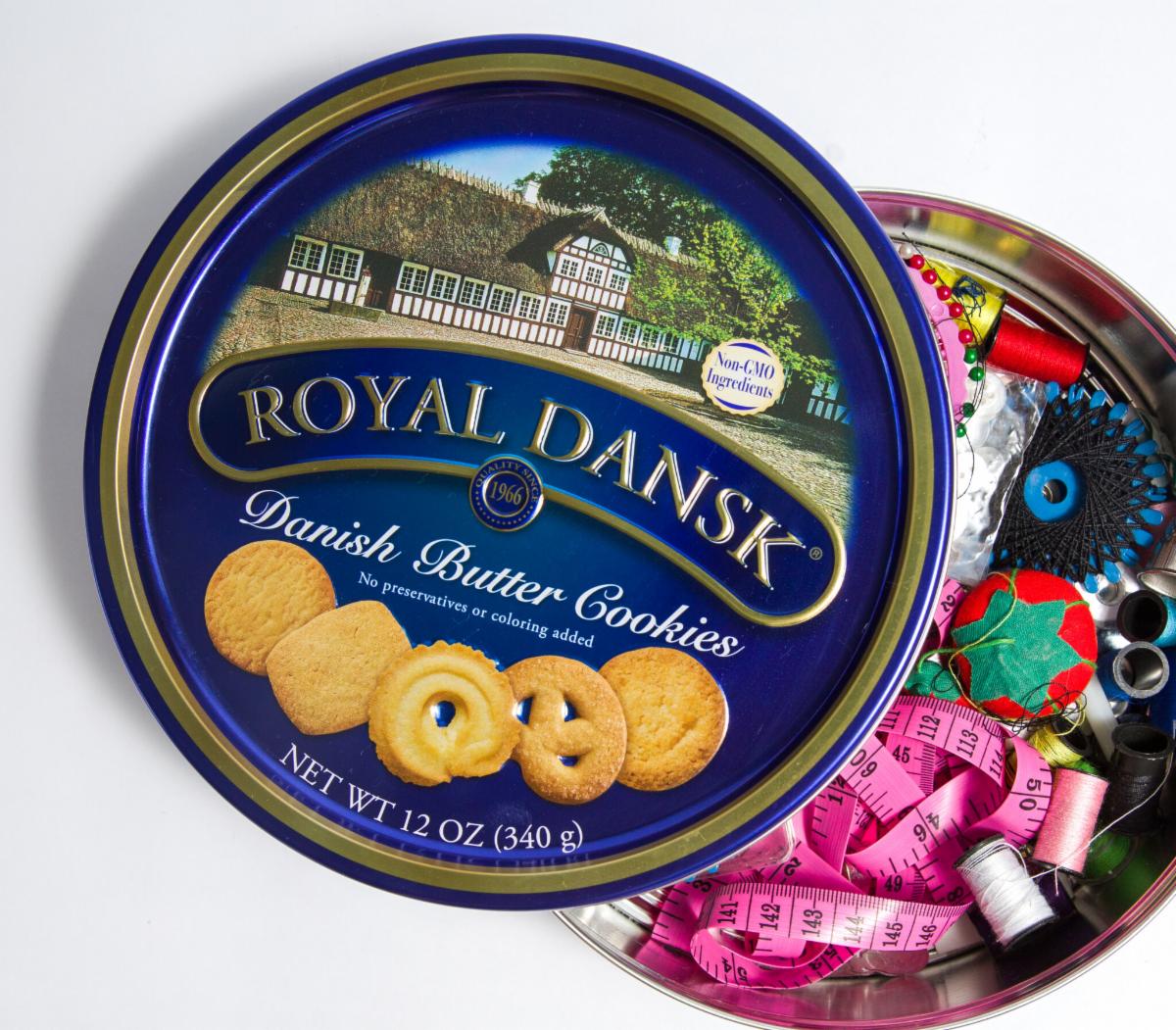 If you have one of these tins, it might be time for an upgrade!
Image from the NYTimes.
Pegboard for Sewing Tools
Setting up a pegboard against a wall is probably one of the most versatile ways to organize your sewing space. By using different-sized boards and adjustable pegs, you can hang notions like thread spools or tools. You can purchase these at local home improvement or hardware stores and even paint the boards to your liking!
Rolling Carts
Rolling carts are also versatile since you can roll them around wherever you need them, then store them from sight when not needed. Some will have trays, and others will have drawers, and rolling carts can come in different shapes and sizes.
Get a hybrid rolling cart with pegboards!

Image from MyDomain

As I have, you can utilize hooks and magnets to hold your embroidery hoops, quilting rulers, and scissors on your rolling cart.
You can also use stacking trays and tubs to organize smaller bits and bobs on each cart. I like to repurpose candle jars after removing the wax and cleaning them thoroughly.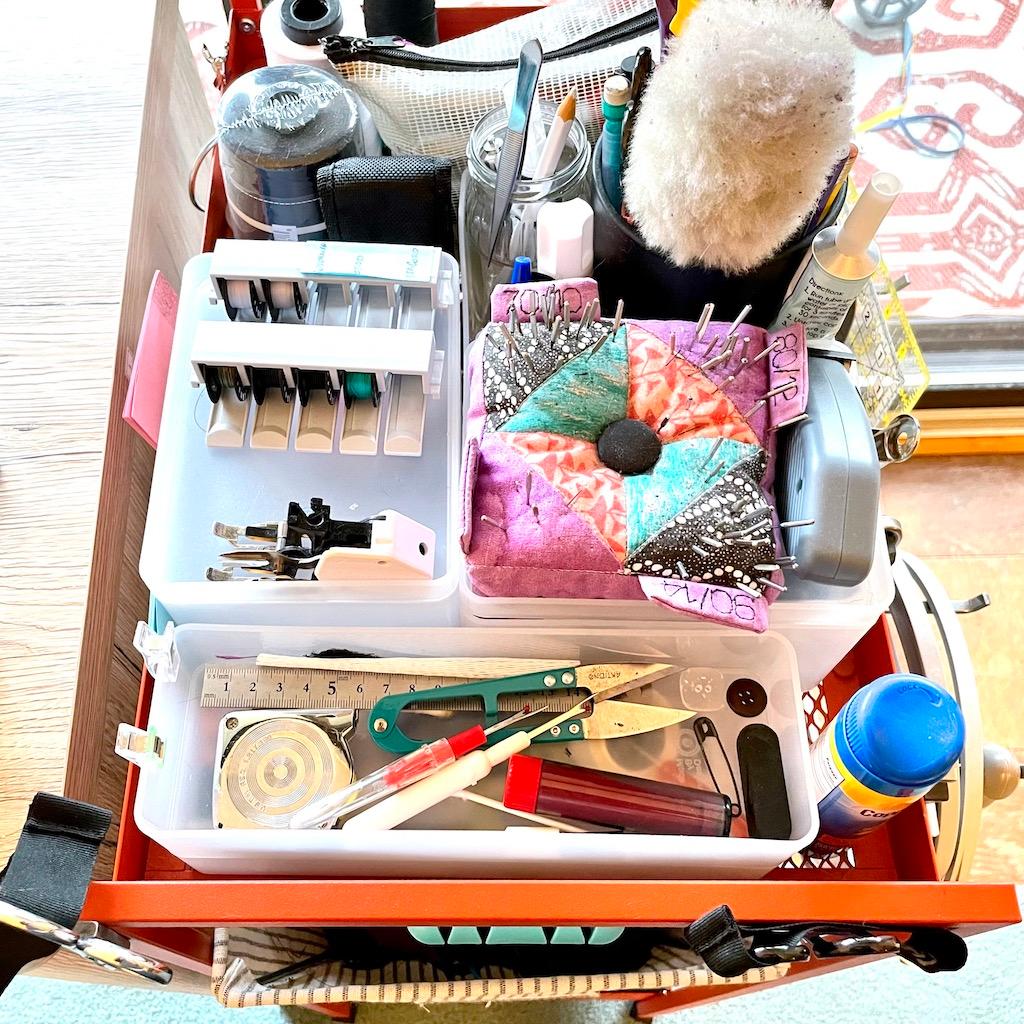 Tackle or Tool Boxes
Containers to hold tools, fishing supplies, or other small supplies can make excellent storage boxes for packages of needles or sewing machine feet and accessories.
| | |
| --- | --- |
| | |
| Image from Ikea | I use a clear toolbox to store all my embroidery floss threads. |
Flatware and Office Supply Storage to Organize Sewing Tools
These organization units were never exclusive to flatware and utensils. You can definitely use them to store scissors, rotary blades, markers, and other notions. You can purchase these organizers at virtually any big box store or look for similar drawer organizers in office supply stores.
Desktop organizers have just the perfect containers to keep sewing tools in place next to your sewing area.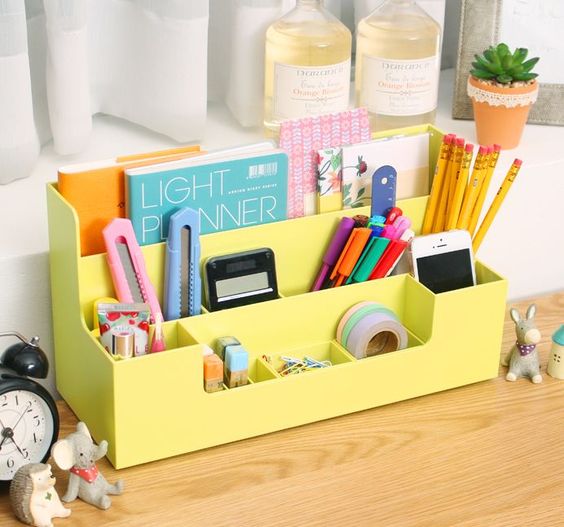 I hope this gives you the inspiration to organize your sewing space.
Happy Sewing!
---

Recent Posts
How to pair your needle and thread for perfect stitches ? …

You've been sewing for some time now and realized you had accumulated quite a few new tools and noti …

No matter what brand or model your machine is, you'll need to frequently clean and oil it to keep it …